We all love winery trips, but not always in the mood of big producers formal "educational" tours, or fancy glamorous tasting rooms flooded with tourists. Whether you are in search of the next wine trip idea for unique experience, or simply looking for a laid-back weekend getaway, indulging yourself in gorgeous wine country scenery and great local food, Willamette Valley in Oregon has a lot to offer.
About Willamette Valley
Some forty minutes drive from the city of Portland, Willamette Valley is home to many prestigious wineries known for producing exceptional - arguably the America's best - Pinot Noir. Its average seasonal temperature, warm summers with cool evenings resemble the conditions in Burgundy. The climate boasts a long growing season and the area has quickly been making a name for itself on the wine map. It's still relatively untouched, offering a laid-back atmosphere in which visitors are able to drink with the winemakers and enjoy the local bites freshly picked from the farms next to the vineyards.
The Willamette Valley consists of six sub-appellations: Chehalem Mountains, Dundee Hills, Eola-Amity Hills, McMinnville, Ribbon Ridge and Yamhill-Carlton. The various soil types, including the marine sedimentary soil, volcanic basalt-based soils, and windblown silts, contribute to the great versatility of the wines. While Pinot Noir is the absolute dominant variety (grown in more than ¾ of all vineyards), Pinot Gris, Chardonnay and Riesling are noteworthy as well. In recent years, Gamay Noir, Gewurztraminer, and a few Italian varieties are gaining fame rapidly.
On our 9-day trip in Oregon, excluding the 1st day of Portland city adventure and a little one day break in the Crater Lake in the middle (thank god we took a break!), we visited 20+ wineries and here are some highlights and tips on where to eat, stay and sip.
Where to taste?
Ponzi Vineyards
Oh my, I don't even know where to start. Maybe the founder Dick Ponzi who has a mechanical engineering degree from college, worked as a design engineer and helped design rides for Disneyland? Or the state-of-the-art winery "Collina del Sogno" that has various innovations and redesigns on the winemaking process, making it a sustainable and environmentally friendly gravity-flow winery? Or the fact that the most barrels they use are steam-bent instead of fire-bent barrels, procured from small, artisan coopers?
Few possess the rich history like Ponzi Vineyards when it comes to the New World Pinot Noir. Dick and Nancy Ponzi established the Ponzi Vineyards in 1970 as they saw the promise here for cool-climate varietals such as Pinot Noir and Pinot Gris. Till today it remains the pioneer in Oregon wine innovation as well as one of the legendary producers, putting Oregon on the map as a world class wine region.
On the wines:
Ponzi is renowned for their Montrachet-like style. And this is a perfect example. Aromatic nose of citrus fruits and flint, compelling bright acidity on the palate, with some lemon peel, honeycomb, and spice, as well as a broad and long finish. The fruit was whole-cluster pressed and the juice went malolactic fermentation, ~15% new french oak.
Pronounced on the nose with fresh strawberry and hints of cedar, more savory than the classico, with lots of tea, nutmeg and herbs on the palate, captivating minerality and has a long aftertaste. The fruit was fermented in small lots with couple days of cold soak and the wine was aged for 20 months. This wine clearly has aging potential, and I'm curious to see what it can offer in another 10 years.
A terrific example of Ponzi's single vineyard wines. Crafted exclusively with Pinot Noir from LIVE certified sustainable Wahle Vineyard in the Yamhill-Carlton AVA. Fruit was hand sorted and destemmed, fermented in small lots, and aged in French oak barrels (~50% new) for about 20 months. This wine has sappy cherries and raspberries on the nose, with a touch of cinnamon, cedar, wet stone, and fresh herbs on the palate. Another great bottle with a long life ahead.
The name Lingua Franca, which I have not heard of before - is a language widely used to bridge communication between people who do not share a native tongue. Just as the name suggests, Lingua Franca Winery is committed to bringing people from different backgrounds to common ground as well as promoting transparency in winemaking and purity in the vineyard. It is a lesser known, relatively new winery, yet crafting world class Burgundian style Pinot Noir.
Lingua Franca is a partnership of Larry Stone - a talented master sommelier, Dominique Lafon - an iconic producer of Burgundy, and David Honig - a successful attorney with experience in the wine industry. It was established in 2012 with the planting of 66-acres in the Eola-Amity Hills and started a new story in the incredible region of Oregon.
Here they farm organically with biodynamic practices - the LSV Vineyard is rich in Jory soil, a combination of 18 different Dijon clones and heritage clones and rootstock, east-facing, with moderate cool wind; the Bunker Hill Vineyard is located in the Salem Hills, at ~600-feet elevation, entire Nekia soil, the vine is one of the earliest plantings of Dijon clone Chardonnay 76 in Oregon planted in 1995. The hard work along with the respect for the land truly paid off in the wines, blooming with freshness and complexity - a genuine reflection of the terroir.

Tasting Room and the Wines
Ever had a tasting in a tent? If not you should absolutely try this one! Their glamping - style tasting tent is an unique way to experience the stunning nature and modern luxury the same time. It provides a rustic backdrop for the tasting experience and allow visitors to enjoy the wines alongside the vineyard sight. Couple of highlights from the wines:
2016 Sisters Chardonnay
& 2016 Bunker Hill Estate Chardonnay
Sisters - I decided to come visit Oregon because I am a huge fan of the Pinot Noir, quite frankly I've only tasted a limited number of Oregonian chardonnays in the past. This 2016 Sisters Chardonnay completely blew my mind! From a single vineyard on 100% Jory and Nekia soils, giving the wine a lively character. With 45% new French oak, you'd expect it buttery and heavy - not quite! It is racy and with lovely citrus fruit aromas, profound acids, evolves with great complexity, and ends with a long finish that sails on forever. Devoid of hyperbole, this is one of the best Chardonnays I've ever had.
Bunker Hill - Another lovely Chardonnay. Exclusively from Salem's Bunker Hill, with old vines and pure Nekia soil. Complex nose of punching minerality, layers of herbs and smoke, and lovely citrus aromas. Similar palate, nice long finish.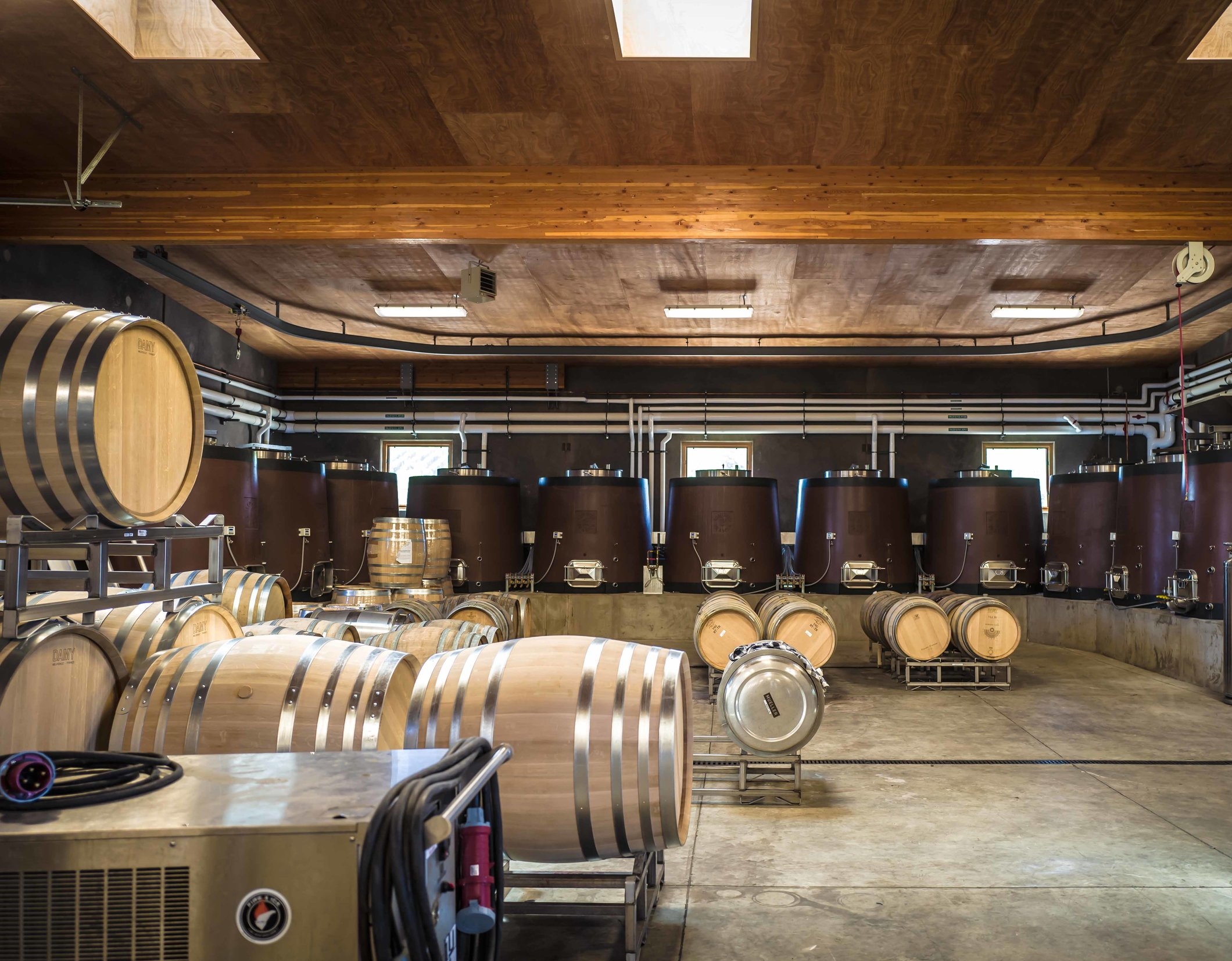 2016 AVNI Pinot Noir & Lingua Franca Estate Pinot Noir
AVNI - One of the best sellers, it is an easy-drinking Pinot with a fruity and floral nose. Having undergone carbonic maceration, it is showing the vivid bubblegum and red berry flavors, supported by high acidity, finishing with a floral round mouthfeel. Delightful drinking by itself and should drink young.
Estate - This vintage marks the first release from the estate and I personally believe this is one that truly speaks for the terroir. Vigorous ruby in color, freshly picked strawberry on the nose, with more mineral and flint flavors on the palate accompanied by floral notes. A remarkably long finish complete the experience.
2015 Tongue 'n Cheek Pinot Noir & 2016 Mimi's Mind Pinot Noir
Tongue 'n Cheek - A richer style than the previous two, with more black plum and blackberry aromas. I was told the bottle was opened a day before but I can still feel the spiciness and chalky tannins. This one would obviously have a long life and more tertiary flavors such as game, chocolate, and forest floor will reveal with patience.
Mimi's Mind - Again, opened a day before to allow more air in the bottle. This one is more floral on the nose, with layers and layers of minerality. Rose petal, exotic spice, savory herbs on the palate, with great acidity and long finish. Some truffle/mushroom and forest floor flavors have already started to emerge but like locked up in a box. I would even wait for 10+ years for the beauty to fully sparkle!
Cooper Mountain Vineyards
There is simply no better way to spend a bright breezy afternoon. Sitting outside next to the vineyards, enjoying a great landscape while you sip, and talking to the knowledgeable staff is quite an unforgettable experience. Cooper Mountain Vineyarda was founded by Dr. Robert Gross and his wife Corrine back in 1978, became early adopters to organic and biodynamic farming practices in the valley. They make farming decisions based on what benefits the entire vineyard ecosystem. Every bottle made here is from biodynamically farmed grapes.
At the beginning they were only supplying Pinot Noir and Chardonnay grapes to other winemakers; in 1987 they made a bottle of Pinot Noir as their first label from the estate vineyard. Today they have expanded production, taking on other varieties such as Tocai Friulano (only 2.5 acres) - the 2017 Tocai Friulano is quite aromatic with honeysuckle and citrus aromas, finishing with zippy acids; Gamay Noir - I also tried a 2017 vintage, pronounced aromas with lots of berries and laced with spice; and others including Pinot Gris, Gewurztraminer, and Pinot Blanc.
Among all the wonderful Pinot Noirs, I found two to be particularly unique:
a non-sulfite natural wine of Pinot, deep ruby in color and has a quite tannic structure which carries the weight in depth with a nice blend of red and black fruit flavors, they believe this wine is "a purest expression of the terroir and an expression of life", hence the name LIFE
2014 Meadowlark Pinot Noir
The other one being the single vineyard label Meadowlark, one of the four estate vineyards (Old Vines, Meadowlark, Johnson School, and Farmington) - the 2014 vintage is layered and powerful, with bright acidity, already developed loads of tertiary flavors such as mushroom and earth, "Willamette Valley at her most delicate" as they say.
Founded by Eric Hamacher back in 1995, Hamacher Wines has since proved an uncompromising commitment to quality.
We started with a refreshing and bright Hamacher rosé (2017), followed by the 2014 Chardonnay - quite subtle and delicate, with perfumed citrus flavors and a hint of honeydew melon, and a nice long finish. Next we tasted two Pinot Noir: 2015 "H" Pinot Noir is quite aromatic on the nose, driven by red berry fruits and has a soft touch on the palate, deliciously easy drinking by itself, a perfect wine to have with friends sitting in their beautiful tasting garden, right by the side of the vineyard - we found it to be one of the best value bottles of Oregon Pinot; 2013 Hamacher Pinot Noir offers silky texture, and a more complex nose with some lovely teriery flavors including truffle and toast, and an earthy and mineral lasting finale.
Founded by Michael Etzel in 1986, together with his brother-in-law, Robert Parker, Jr. , the winery is much smaller than I would have expected for such a big name, and much of the farm still remains the same today - simple and rustic. We took a tour with the staff and hiked up to the vineyard on upper terrace, accompanied by a sweet cute pup who occasionally picked grapes on the ground. Like several other vineyards that I've visited here, Beaux Frères has adopted biodynamic farming and still been exploring the ideals of it - they aim to craft wines that are based on minimal intervention and a shared intuition with the land.
Walking down to the winery, we saw their entire process to be more "old-fashioned", as they advocate "Low on technology, high on personality; Low on analytics, high on intuition". Fermentation relies on wild indigenous yeast; new wine is then moved into French oak barrels, then similar to what Burgundians have been doing for ages, they also adopt the "reductive winemaking" style to protect the fragile Pinot Noirs from excessive exposure to oxygen. By the time we arrived the grapes were just being sorted at harvest time, and of course I offered to help. The overall experience was casual and the family made you feel like you are part of it.
2016 Beaux Frères Guadalupe Pinot Noir Dundee Hills & 2016 Beaux Frères Gran Moraine Pinot Noir Yamhill/Carlton
Guadalupe - More black fruits on the nose, a young and powerful wine that needs quite some air to open up, quite concentrated on the palate and has a refined texture.
Gran Moraine - Dominated by primary aromas, relatively easy drinking compared to others, fruit-driven yet has layers; drink now but can also hold it for 3-5 years for more earthy features.
2016 Beaux Frères The Beaux Frères Vineyard Pinot Noir & 2016 Beaux Frères The Upper Terrace Pinot Noir
The Beaux Frères Vineyard - Impressive elegant wine, lots of orange dark chocolate and cedar aromas on the nose, quite complex with well integrated tannins, probably my favorite one here.
The Upper Terrace - Pure and classic "Burgundy red" nose, elegant and balanced, offering more earthy undertone than The Beaux Frères Vineyard, still in its youth yet already showcasing notable tertiary aromas and great potential ahead.